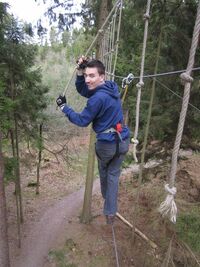 Hello, I'm Kirkburn, aka George!
As Senior Technical Community Support Specialist at FANDOM, I'm here to help you if you have any issues.
Please feel free to ask me questions on my Community Central message wall!
Who are you?
I'm a resident Brit, who spends his time listening to ELO and Miike Snow, pretending he lives in Wee Britain, and seducing West Country villagers. I even dabble in warping the fabric of space-time, before saving the galaxy from the Reaper fleet.
In years gone by, I also created a popular addon for World of Warcraft called ClearFont.
Why "Kirkburn"?
The long version involves the 1990s, a gun-toting armchair historian, Star Wars, a harpoon and a very, very tall turbolift shaft.
But the short answer is: I just thought it up one day.
I am not to be confused with a village, or with "probably the finest Iron Age sword in Europe". Well, actually I'm okay with the latter.